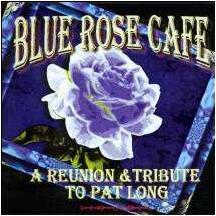 I Wish I Was Home

Sweet Allis Chalmers

The Silver Eagle Express

Separate Waves

Blue-Eyed Cowboy MP3

Painted Lady

The Ballad of Spider John

I'll Be Seeing You Sometime MP3

Long Way to Travel

You'll Never Be Alone

Do Re Mi MP3

Blue Rose Cafe

Train to Birmingham MP3


Reunion CD
A cool CD was recorded live at the reunion and released on Oklahoma-based Big Medicine Records. It contains every song Blue Rose Café played that night, including several that Pat wrote--plus songs by Willis Alan Ramsey, Kinky Friedman, John Hiatt, Woody Guthrie, Bill Caswell and John Hadley. Kevin Welch and John Arnold trade off singing lead, and a few special guests appear on some songs.
Fans of Blue Rose Café from around the world have flocked to buy the CD, with copies being sold across the United States and in 16 other countries.

Reviewers love it too! The Oklahoma Gazette calls it "an exceptional and exceptionally moving tribute," while Take Country Back's AnnMarie Harrington says it's "a remarkable effort from a remarkable band of songwriters and musicans.... The musicianship and harmony vocals from the entire band are nothing short of breathtaking. Their choice of covers is strong and impeccable, but it's Pat Long's original songs that stand out."
Unfortunately, we have completely sold out of the CD, and it is now out of print. Thanks to everyone who purchased it and helped keep the band's legacy alive!