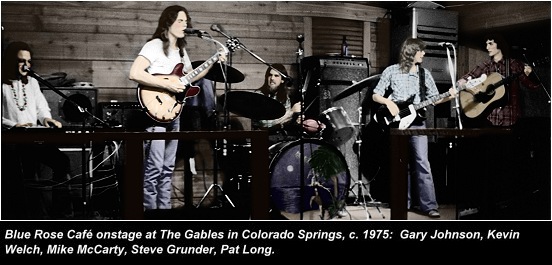 One of the most significant, popular and influential bands in the Red Dirt music scene of the '70s was Norman, Oklahoma-based Blue Rose Café. The band featured lead vocalist/songwriter Pat Long and future noted singer/songwriter Kevin Welch on lead guitar; Gary Johnson played keyboards, and the rhythm section was Steve Grunder, on bass, and drummer Mike McCarty. Pat and Kevin had performed together previously, both as a duo and with the group New Rodeo, which included Mike, a local legend for his work with the Holy Modal Rounders. Shortly after New Rodeo split up, they began putting together another band. Mike and Steve had played together in the Medicine Park All-Boy Derelict Band (which Kevin calls "a GREAT red dirt band, maybe the best of all, ever"), and Gary had just finished up a stint with Mike in La-Z-Boy and the Rockin Recliners, so the band came into place quickly.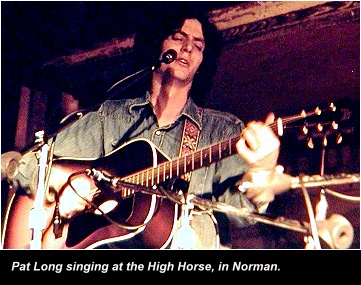 Jack Long, Pat's father, was the band's booking agent, getting them gigs throughout the southwest, and Michael Podhurcak was the offstage "sixth member" of the band, running sound and co-piloting as Steve drove the bus in the wee hours of the morning. Blue Rose Café spent about two and a half years, from 1974 to 1976, touring throughout Oklahoma, Colorado, Arkansas, Kansas, Louisiana and Arizona, usually for week-long gigs, and developed a devoted following throughout the south and southwest. (In fact, one fan was so devoted that he named his Tulsa restaurant after the band; the restaurant later achieved fame as the birthplace of the pop group Hanson.)

As an early influence on the progressive country scene, the musicians in Blue Rose Café threw elements of folk, swing, jazz, bluegrass and blues into the mix, thus creating a sound that would help lead to today's Americana/alt-country genre, and form a powerful and lasting influence on Kevin Welch's writing for decades to come.